WHAT'S IMPORTANT?
_________
Your GRC Journey Continues Here
There are many GRC software solutions to choose from, and features and functions can become hard to distinguish. So, how do you find and deploy a solution that is great for you today AND tomorrow? We've put this section together, highlighting the features of our new ERM One™ product, to share the key steps in the GRC process and what we believe is important in making each step a success.
What's Important?
There are three attributes of a solution (Product, Process and Content) that, in combination, deliver the critical services, tools and capabilities that companies require to tactically execute upon the four elements of day-to-day risk management (Identify, Assess, Mitigate and Monitor) with efficiency and effectiveness.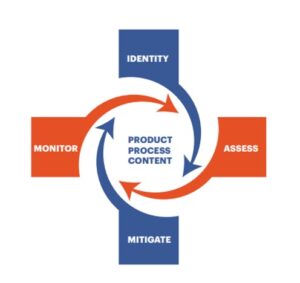 Additional Critical Components
Scalability; easy to add on functionality
Deliberate modular construction for expandability
Highly configurable
Turn-key
Defined
Driven by subject matter expertise
Based on use-case evidence
Embedded and robust reporting, including ad-hoc
Business Intelligence (BI)
Data Visualization
Capacity for project and workflow management
Issue and remediation management
Integrated into one package
Whether out-of-the-box core functionality, or a more expansive, yet tailored implementation, DoubleCheck offers products, processes, and content on an agile, configurable, and scalable platform, designed to support all your GRC needs.