Regulatory Compliance Insurance Automation Program
In the Property and Casualty Compliance arena, Audit professionals are often overwhelmed when having to locate and comprehend regulations for 50+ Jurisdictions, 100+ Compliance categories, and 60+ Product types. It is critical that all regulations are addressed and that the risk of uncertainty is non-existent.
With the DoubleCheck Regulatory Compliance Automation platform, Policy Management professionals can access a secure, centralized environment for management and maintenance of policies. Automated software creates dynamic templates, all customizable to allow users to address policies by Jurisdiction, Compliance Category, and Product types. With these powerful tools, users can be confident that they are addressing mandatory compliance requirements.
Consolidated Property and Casualty Audit Library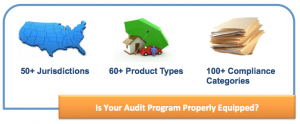 Doublecheck's new Regulatory Compliance Automation application delivers a fully configurable set of over 50,000 audit questions, organized by Jurisdiction, Compliance Category, and Product type. It then provides necessary Automation, Workflow Management, Remediation tools, and Reporting engine that deliver a complete end-to-end Regulatory Compliance solution.
Link Corporate Policy with Your GRC Program
With powerful cross-linking capabilities you can map policies to related risks, controls or audits. Additionally, you can link policies to external regulations, standards or other third party requirements. With an integrated GRC policy library, you'll be able to understand and manage policy actions resulting from GRC findings or external changes.
WHO IS IT FOR?

Property and casualty insurance compliance professionals.
WHAT DOES IT DO?

Data Structure & Workflow Management

Regulatory Compliance Automation

Reporting, Business Intelligence and Notifications
WANT MORE INFORMATION?

Download our Product Sheet.